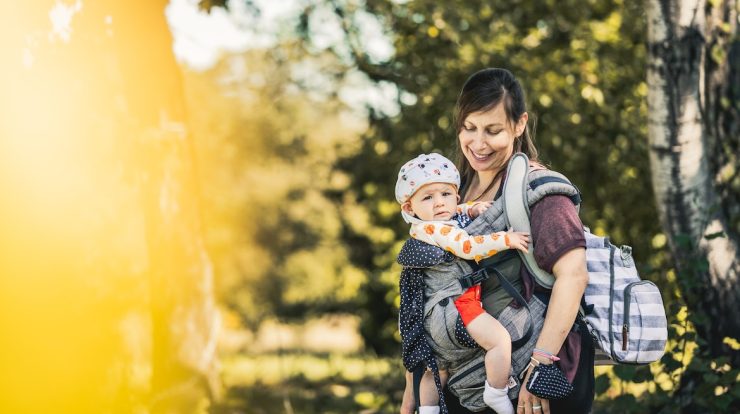 A baby carrier is an important travel accessory that new parents planning to travel for a holiday should have. Babies love the warm cuddle and cradle of their parents, and a quality baby carrier from Diono can be useful for keeping your baby close. This makes the baby calm and secure, which is important to babies traveling to new environments or experiencing a change in routine.
Do You Need a Baby Carrier?
While a baby carrier isn't essential, it is a crucial addition to your traveling accessories. Baby carriers allow you to travel with your baby while freeing your hands to carry your travel bags. It also keeps the baby warm and safe in the new environment. Keeping your baby close to you is vital for your peace of mind, especially when you have many other things to focus on. You can go about your businesses seamlessly as the baby sleeps comfortably on your chest.
Baby carriers are excellent for air travel as well. In some situations, you may not travel with a stroller to the airport. Having a baby carrier comes in handy, especially when maneuvering the busy airport traffic. Other reasons for having a carrier include:
 

Babies sleep faster in the carrier

Some places might not be stroller friendly

 

Suitable for crowded spaces

Easy to get on and off public transport than traveling strollers 
How to Choose a Baby Carrier for Traveling 
You should consider the following when buying a traveling baby carrier:
1.
Safety of the Baby
Before entrusting some piece of fabric with your baby, you should ensure that the carrier can handle your baby's weight. Below are a few things to be wary of to ensure that your baby is safely tucked in the carrier: 
Always consider the weight limits of the carrier. All baby carriers have tested weight limits that have been proven safe.

Ensure the baby's body, specifically the airway, is supported by the carrier.

 

Avoid cheap or second-hand baby carriers that aren't in good condition. The buckles, fabric quality, or stitching might be compromised.
2.
Comfort for the Baby
Since the baby will be in the carrier for several hours, you should choose a carrier that assures maximum comfort. When using a sling or wrap carrier, you should seek advice from experienced persons on how to wear them best. A key aspect, particularly for young children, is ensuring correct hip and knee placement. This prevents the baby from the risk of hip dysplasia associated with incorrect wrapping.
3.
The Comfort of the Wearer
You should also look into your comfort, considering you will be strapped onto the carrier for several hours during your escapades. Similarly, you should look at the carriers' longevity. Most carriers can comfortably accommodate children until they are preschoolers. However, the best carrier for newborns may not necessarily be the best for toddlers.
Endnote
Traveling to distant destinations with your baby might prove challenging. Most parents also aren't sure if they should bring a stroller or a carrier with them. While baby strollers are best in some situations, such as evening walks or walking around less crowded cities, baby carriers are overly practical. Ensure that your carrier is safe and comfortable for you and the baby.